Seamus says "Rooooo!" whenever he's excited, and he's excited a lot. Here's something to roo about...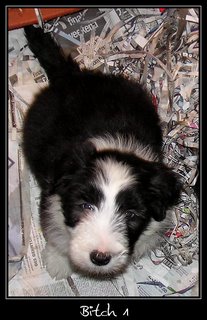 (Photo courtesy of Jana Jezkova Jr.,
Glen Albyn Beardies
)
Isn't she cute? It's official -- I'll be bringing this little girl home with me!
A BeardieList friend from the Czech Republic
just brought this puppy's sister home to Prague over the weekend. The littlest girl is almost as big as the others, and she is going to her new home on Sunday. The little boy has a show home waiting for him in England, so he won't have to travel far to get where he's going.
The registered names will all have a storm theme to them, since the kids were born in a real howler of a storm. The little girl in Prague, whose call name is now Buffy, will probably be registered as Breaksea November Rain, after a song by Axl Rose. I submitted a few suggestions to the breeder, and will find out soon which one she picks.
I've decided to hold off on our puppy's call name until I meet her. Every day I favor different names, and I've narrowed the list down to a few dozen. Seamus's name just occurred to me the morning after his first night with us. The same thing might happen after my first night up in Wales with all the Breaksea Beardies. I'll probably wake up the next morning and just
know
what her name is, just as I did with Seamus.
The trip itself doesn't quite seem real to me yet, in spite of all the shopping and all the preparations. I picked up my British pocket money at the bank today and made reservations for the night before my flight at a hotel near my office building. I'll park my car at my office for the week I'm gone and take the company limo into Logan Airport. Bless their hearts, they were happy to let me bring the puppy on the trip home! The Sherpa bag that my friend Kathy loaned me will come in handy after all. (Greg offered to meet us at the airport, but I won't drive in there if I don't have to, so why put him through that misery when he could be comfortably at home, chilling the champagne instead?)
And Speaking of Bags...
The felted ones, that is. Two of the three have reached their new homes, and the crowds are going wild! Both Kathy and Jody have received theirs and are simply over the moon about them. It makes me happy to know that my knitted pieces are going to loving adoptive homes. Now to get Susannah's on the needles... which I'll do as soon as I can bear to put the rust-colored socks down!
The Bargain Hunters' Triumphant Return
Dale
and I did what any red-blooded knitters would do on New Year's Day: we went on a road trip to
Patternworks
in NH to take advantage of their 20%-off-on-the-store sale. I told Greg I was planning to go there to pick up Only One Thing, a blocking board big enough to hold sweaters. (He didn't say "Yes, dear," or even "Yeah, right," but he had a perfect right to think either one.) In spite of the several rooms' worth of 20-percent temptation surrounding me, I was astonishingly good: I picked up a plastic Balene 11" circular so I could work on my socks on the plane next week, plus a few more balls of sock yarn and some small-sized stitch rings and rustproof T-pins for the board.
Dale was likewise pretty well-behaved, but she has all she needs to start on her next sweater project. All we need now is the time to knit!
We have the best road trips, though. Since coffee is the most important meal of the day, we ended up stopping at the Wolfeboro Dunkin' Donuts for refills (twice!), and had a wicked good Mexican lunch at the Bad Moose Cafe in Moultonboro. (Get the chicken quesadillas. They are simply To Die For. Trust me on this.)
A Quick Shout Out
...to
Lisa
, POC person and a real author like
Barbara
, not just a word mercenary like me. Thanks, Lisa, for all the kind words!